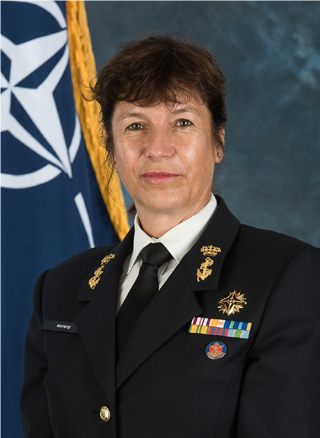 Jeanette Morang
COMNLMARFOR / COMSNMG1
,
Dutch Navy
Commodore Jeanette Morang (1965) started her naval career at the Royal Netherlands Naval College in Den Helder (1983-1986). After going to sea on board the supply vessel HNLMS Zuiderkruis and the frigate HNLMS Callenburgh, she completed her Advanced Officers Training at the University in Groningen (business administration faculty in 1988). In her second tour as a watchkeeper on board HNLMS Callenburgh, she deployed for the first time with the Standing Naval Force Atlantic (STANAVFORLANT); now known as Standing NATO maritime Group 1 (SNMG1). As a Principle Warfare Officer, she served as an Air Defence Officer (ADO) on board of the frigate HNLMS Witte de With (1995-1997).

In 1997 she got her first command - as the first woman in The Netherlands' navy's history - of the minehunter HNLMS Alkmaar. Subsequently - deployed overseas to the Caribbean - Jeanette was head of intelligence and operations with the Coastguard for the Netherlands Antilles and Aruba (CG NA&A) (1999-2003). Main focus was on counter drugs operations in support of the local authorities in close cooperation with law enforcement agencies in the region (UK customs, US Coastguard and DEA). Following her appointment in the Caribbean she was stationed at the Naval Staff in The Hague as an advisor to the Commander in Chief of the Navy. After completing the Advanced Command Staff Course (ACSC) in 2007, she served briefly as Executive Officer on board the Air Defence and Command Frigate HNLMS De Zeven Provincien. Subsequently she assumed command of the sister ship HNLMS De Ruyter. In this period De Ruyter participated in the maritime taskforce of UNIFIL off the coast of Lebanon conducting maritime interdiction operations. On completion of her command, she returned to The Hague and served on the CHOD's staff, as the link between the Navy and the Directorate of Operational Readiness until 2012. After one year of mentoring and teaching at the ACSC, she was promoted to Captain and stationed with the Operations and Plans Division of the International Military Staff in NATO HQ as staff officer maritime plans and operations and chairman of the Military Committee Working Group Operations Maritime. An interesting period; especially after the RUS annexation of Crimea and the implementation of NATO's Readiness Action Plan.

After returning home in 2016, she started work as a Branch Head in the Directorate of Operational Readiness at the MoD in The Hague and completed the Senior Executive Course. In 2019 Jeanette was promoted to Commodore and served as the Commander Surface Forces NATO in NATO's Maritime Command in Northwood for 3 years, where she was responsible for the operational command over NATO's Standing Naval Force and Operation SEA GUARDIAN. This period was marked by the implications of COVID-19 and the invasion of RUS into UKR. In 2021, she assumed tactical command of SNMG1.