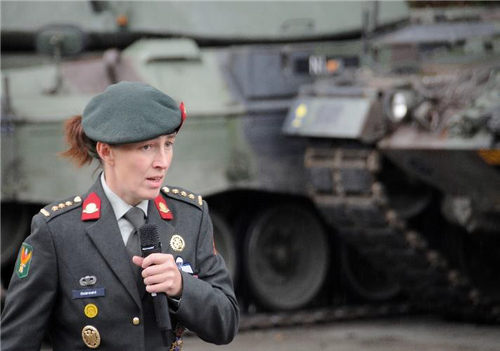 Mietta Groeneveld
Director
,
NATO Command and Control Center of Excellence
Colonel Mietta Groeneveld was born in Amsterdam, in 1968 and she grew up in Lisse, with her parents and brother. She graduated from the Royal Military Academy in Breda as Maintenance Officer in 1991. After her first assignments in the Netherlands and Germany, she was selected in 1997 to attend the Technical University in Delft where she achieved a Master of Science degree in Applied Physics in 2001.
After this study she has been posted at several positions at the Army Materiel Command, Army Staff, Personnel Department at the Ministry of Defence and as Project Account Manager at Defence Material Organization.

In 2008 she was given the command over a maintenance unit of roughly 500 employees. Promoted to colonel in 2010 she became Head of the Program Office SPEER and as such responsible for the scope, quality assurance, budget and planning at program level off numerous projects aimed at building and migrating joint financial and materiel logistics in the Dutch Armed Forces based on SAP. In 2013 she attended the National Security Program at the Canadian Forces College, a high-level course aimed to prepare selected leaders for strategic responsibilities within a global security environment.

In august 2014 she became Branch Head Multilateral Military Affairs within the Department of Defence in the Netherlands. And from 2018 until 2021 she has been Branch Head Management and Services within the Army Staff. Since July 2021 she is the Director of the NATO Command and Control Center of Excellence, located in Utrecht. During her career she was deployed to Kirgizstan as Deputy Senior National Representative as part of the European Participating Air Forces (EPAF) in Operation Enduring Freedom and to Afghanistan as the CJ4 of Training and Advisory Command-North and the NLD-SNR in Resolute Support at Masar-e-Sharif. Colonel Groeneveld has been a member of the Dutch Military Orienteering Team and competed in 15 Military World Championships and numerous international orienteering events. She is 11-time military champion in orienteering. She is active as an editor for the military-science journal of the Dutch Armed Forces "Militaire Spectator". In 2018 she became President of AFCEA Chapter The Hague and she is President of APA, the Technical Staff officers association. In her spare-time she is a hobby electrician and likes to play hockey and chess. Mietta Groeneveld lives in The Hague with her partner Olaf Binsch and their son Odin (2007).